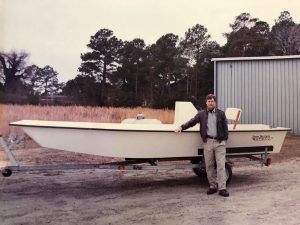 In 1989 Rob and Donnie Jones, the Jones brothers, launched their first Bateau and solved a difficult problem for coastal anglers. For years the brothers had sold aluminum Jon boats at their retail store in Morehead City. At the time, however, they noticed that many Jon boats didn't hold together well because of the beating the boats received in the harsh and rough saltwater environment of the sounds and nearshore waters of the Southern Outer Banks. From experience, Rob and Donnie knew that wide, flat-bottomed Jon boats were often the favorite craft of anglers seeking speckled trout, flounder, and redfish.
The Jones Brothers' Bateau was born as a tough, fiberglass Jon boat that met the needs of a variety of boaters. Like the "bateau" of Louisiana, the new Jones Brothers' craft was also a utility boat that could be used by sport fishermen, hunters, oystermen, and even water skiers. To make them more user friendly, Rob Jones developed a short, centerline skeg (a small keel) that made the Bateau capable of making tight turns without sliding. Sliding in turns had long been a problem with Jon boats and other flat-bottom craft. Over the years the Bateau has found a home in coastal marshes, nearshore waters, and reservoirs of the eastern United States. They are tough-as-nails, wide, stable, and easily trailered. They are also economical to run, since flat-bottom boats don't need the larger engines that are often required to power V-hulled boats.
Not long after introducing the Bateau, the Jones brothers entered the V-hull market. The Cape Fisherman was designed for the unpredictable waters outside the protection of the sounds. Soon some of the finest saltwater guides and anglers on the East Coast were using the boats and suggesting changes. Such input has made the "Cape Fishermen Series" the boats by which all other big-water light tackle boats are measured. Thanks to continued collaboration between Jones Brothers Marine and the best anglers in the business, you can find a Cape Fishermen from 18 to 26 feet that offers the hull and interior configuration to meet your needs. And did we say tough? No center console on the market offers a stronger hull and smoother, drier ride than the Cape Fisherman.