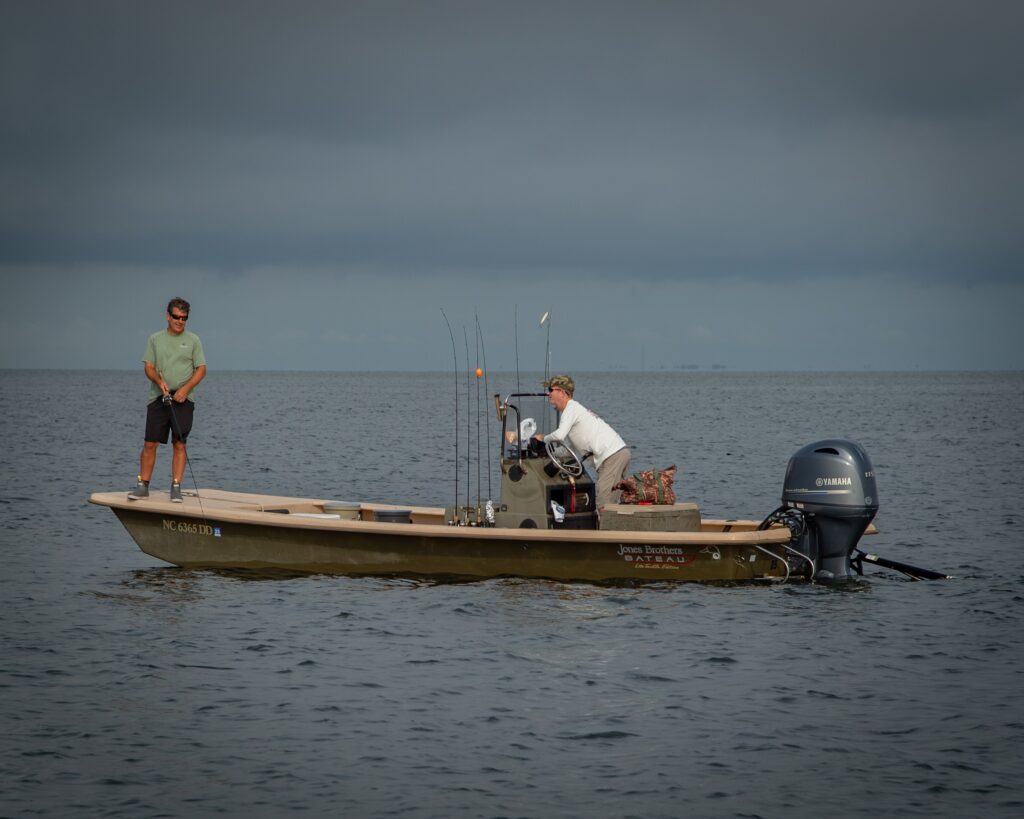 The Jones Brothers Bateau is a flat-bottom bay boat, and is extremely popular along the North Carolina Crystal Coast. On any given weekend, it's not usual to see a large variety of Bateaus – basic models used by fisherman, trollers with T-Tops, families pulling wakeboards and towable tubes, olive drab boats for duck hunters, and maybe even someone hauling an ATV to the banks. For family sports or fishing, Bateaus can be customized to fit your needs.
The current Bateau lineup was introduced in mid-2006. These are larger boats than earlier models with more freeboard, and a much deeper cockpit. An innovative composite stringer system, composite deck and the Superfish console were also incorporated into the larger models. The smaller Bateau 17 still uses the original console. All the boats use 100% composite construction.
In 2013, the Bateau 25 was introduced to the market. The boat has a 20+ person capacity, and is certified by the U.S. Coast Guard for use as a passenger ferry. The Bateau is also often used as a work boat capable of hauling heavy equipment.
Bateau Construction – The hulls, consoles and seats are 100% hand laid fiberglass for consistent quality, superior strength, safety, and the best finish of any sport utility skiff on the market! The Bateaus' Accu-Trak hull design delivers exceptional turning and handling, dryness and safety unequaled in any other sport utility skiff. A Shark-Skin non-skid surface provides sure footing anywhere in the cockpit.
The composite stringer system and deck are laminated to the hull during construction, and foam flotation gets injected into all the under-floor compartments. This creates a hull with exceptional strength, rigidity and durability. A rigging conduit under the floor makes the cockpit safe and uncluttered. A glassed in forward deck provides a solid, finished platform for casting, loading or mounting fishing accessories.
Durable 316 grade stainless steel hardware is used for finish, strength and easy maintenance. A heavy duty rub rail with a stainless insert is installed around the entire gunwale for fit, finish and strength. The flat-bottom design allows the Bateau to use smaller engines which get great fuel economy.
100% hand laid fiberglass
100% composite construction
molded fiberglass stringer system
injected foam flotation
glassed in bow platform with hatch
bolted on heavy duty rub rail
stainless steel hardware
rigging conduit under cockpit floor
"Shark-Skin" non-skid cockpit
"Accu-Trak" hull design
self Bailing at rest
five year limited hull warranty